Daikokuya Pentagon Ebony Wood Long
number : A00033
Artist : Daikokuya
Material : Ebony Wood
Area : Sumida city, Tokyo
Dimensions : approx.240 mm
Pentagon chopsticks.
Since chopsticks are held with three fingers, it is said that the shape with an odd number is ergonomically easy to hold.
The tip of the chopsticks is also finished in a pentagon, it is easy to grasp and not slippery.
Generally recommended size for male.
*These chopsticks are made from natural wood.
Do not use the dishwasher.
Rapid drying, temperature changes, and ultraviolet rays can damage the wood and paint of the material.
For long-term storage, avoid direct sunlight and store in a well-ventilated place.
| | |
| --- | --- |
| microwave | × |
| dishwasher | × |
| oven | × |
It may happen that some crafts available on our online store run out of stock due to time difference because the crafts are exhibited at store in Tokyo and online store simultaneously. You'll be notified by email if your order is sold out.
Our crafts will be delivered in about seven days after the payment confirmation. We will send you an e-mail when we ship the crafts.
Choice of the Delivery Date
You can choose a delivery date if the date is at least seven days after the order date.
If you do not choose any specific delivery date, we may ship in the shortest period.
Please note that the delivery may take longer due to such factors as stock status, weather and transportation.
In addition, the delivery may take longer due to concentrated orders, Mid of Year Gift/End of Year Gift season, Obon, New Year holidays, etc.



Delivery Time Frame
You can specify in the following time frame.
in the morning
12:00 -14:00
14:00 -16:00
16:00 -18:00
18:00 -20:00
19:00 -21:00
In some areas such as islands and mountainous areas, it may be impossible to specify the time frame.
One package will be shipped for one payment.
Due to our system, request for shipping the items from multiple orders in one package cannot be accepted. Thank you very much in advance for your comprehension.
Gift options
Gift wrappings are available for 550 yen.
We will either put your gift in a wooden box or wrap it in a wrapping paper, depending upon its size and material.
※ If you purchase more than one craft, we will wrap your gifts together for each delivery address.(wrapping for each item is not available.)
※ Your gifts may be wrapped in multiple pieces depending upon the size or quantity.
※ Extra bags and extra wrapping papers other than those used for wrapping are not offered.
※ We also enclose our shop card, care instruction and artist's profile along with gift. (If the gift is directly sent to the gift recipient, we will not enclose a statement of delivery showing the price of such a gift.)
Noshi Decoration
If you choose the gift wrappings above (550 yen including VAT), you can add a Noshi decoration. If you wish the decoration, please choose "Gift wappings (with Noshi decoration)" at the time of purchase and fill in the item below in the column of your message to us:
Required Items: Type of Noshi decoration (bowknot/know that cannot be undone, Noshi decoration inside the wrapping paper/outside the wrapping paper), Purpose (celebration of an event within family/gift/birth of a child/celebration), Name
[Wooden box image]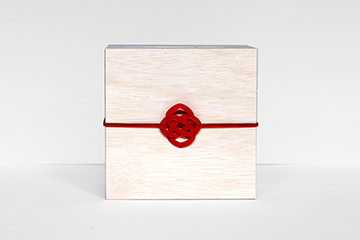 [Wrapping paper image]